---
PostED ON 15.10.2015 AT 9:20PM

---

SELECTED EXCERPTS - In the sold-out theater of Hangar du Premier-Film, the Oscar-winning composer receives a tribute of an hour and a half, inevitably to music!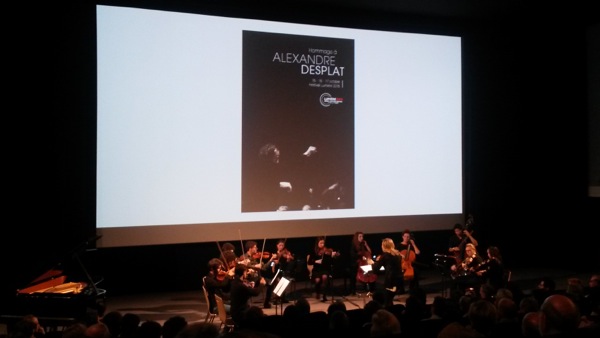 - Stéphane Rouge is keen to underline the "intensity" of the striking character, relating an anecdote about the image Georges Delerue had of Alexandre Desplat: "Alexandre is aware of the value of each director, yet at the same time, his strength is that he will always write something deeply personal."
And to quote a saying by Malraux: "We must learn to be many in a single existence," before concluding, "I feel that Alexandre has already lived two or three lives."
- After a long extract from the seventh Harry Potter set to music by Alexandre Desplat, Alberto Barbera, artistic director of the Venice Mostra tells us about the man he has known since 2010, when they were both on the Jury at Cannes: "I knew he was crazy about film music, the cinema, that he had seen everything... But when I asked him to chair the Jury of this edition of the Venice Mostra, I discovered that he was also a leader."

- A surprise materializes in the form of an instrumental ensemble consisting of twelve young musicians from the CNSMD (The National Superior Conservatory of Music and Dance of Lyon), who brilliantly interpret four soundtracks written by A. Desplat, conducted by his wife, Dominique LeMonnier. The performance ends with notes from The Ghost Writer.

- The music is a perfect introduction to the next surprise: Roman Polanski says a few words. Polanski, a fervent admirer of the musician, has collaborated with him on several occasions (Carnage, Venus in Fur...), ever since The Ghost Writer. He says, to sum up his friend (Polanski presented him with the Oscar): "Alexandre is one of those people who goes through the whole process; he immediately feels the atmosphere that must be created. And we also laugh a lot- he has a great sense of humor."
- Alexandre Desplat takes the mike and goes further: "The way Roman chooses to place the music is just incredible."