---
PostED ON 06.10.2015 à 11:48AM

---

To commemorate the 60th anniversary of the Palme d'or, Alexis Veller directed a documentary on the legendary trophy of the Cannes Film Festival. To gather material for La Légende de la Palme d'or, the former grand reporter went directly to the source in the gold mines of Colombia, and paid a visit to the biggest winners of the award at their homes to ask about their personal rapport with the trophy. From Scorsese to Tarantino to Soderbergh, Veller chose to focus on those who had won the Palme twice, and also interviewed the only woman to have won the coveted trophy, Jane Campion. Alexis Veller sat down with us for an interview at the Cannes Film Festival in May.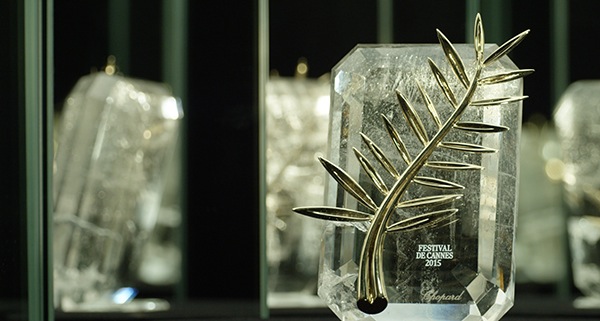 How did you go about putting together this documentary about la Palme?
It began with wanting to commemorate the 60th anniversary of the Palme and to tell its story from the perspective of its origin. I realized that among all the trophies of the cinema, there is but a single Palme d'or, whereas many Oscars are awarded every year. The Palme is made of solid 18-karat gold, and we know exactly where that gold comes from. I wanted to go to the source with the miners. It's fascinating to think that, what begins at a simple mine in Colombia ends up being photographed by the entire world. This contrast gives the trophy an added social dimension.
Was filming in the Colombian mines challenging?
The conditions were somewhat extreme. We were filming 300 meters underground in galleries just one meter wide. That being said, we filmed in a very safe mine installation, where the men were working serenely, far from the image we sometimes have of mines in Colombia.
How did the history of the Palme d'or come to reflect the history of the Festival?
I don't think we talk about the award itself enough, which is so highly coveted by all filmmakers. We all come to Cannes to earn this Palme, which ends up in the hands of very different directors: Taxi Driver, Sex, Lies and Videotape, the film by Apitchatpong… And yet, when Tennessee Williams was President of the Jury, he deemed Taxi Driver too violent, according to Martin Scorsese. It was Sergio Leone and Costa Gavras, on the Jury that year, who urged the other members to award the Palme to Taxi Driver. Cannes is still a festival that reveals talent, and the Palme d'or never gets it wrong. It always ends up in the hands of a director who will mark the history of cinema. None of them, from Tarantino to Soderbergh (who won it at age 26), had ever been interviewed about the actual "Palme d'or" trophy. Tarantino agreed to give an interview in the midst of filming, which he never does. "For the Palme d'or, I'll do it!"


The Legend of the Palme d'or at the Institut Lumière
Tuesday, October 13 at 4:30pm