---
PostED ON 16.10.2015

---
REPORT - Warm, playful, generous and infinitely grateful to those who accompanied her career, Carlos Saura's favorite actress shared her infectious positive mood with the audience from the stage of the Comédie Odéon.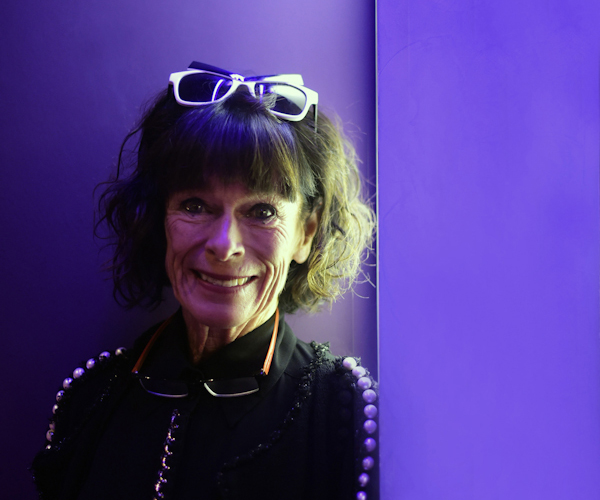 © Institut Lumière / Photo Olivier Chassignole
To be called Chaplin and successfully make a (first) name for yourself... That's what Geraldine, the "daughter of Charlot" as she says, has managed to accomplish. The warm welcome the actress received on Friday morning from the festivalgoers, attending a memorable master class, reaffirmed the fact that her popularity had never wavered. Her 50-year career, incidentally, began in Omar Sharif's arms in David Lean's epic Doctor Zhivago. It was her first role. One that would determine her future. She was an unknown actress who immediately rose to prominence.
"My father didn't openly encourage me to follow in his footsteps,"she confided. "He said he knew what the pain could do to me."
He was wrong. Listening to this petite lady with such a lively eyes, we immediately understand that she mainly got enjoyment out of it. "You have to be lucky to be in this business, and I always have been. Today, I play grandmothers. And it takes a lot of work. Ah, these wrinkles."
Hearing her tell the story of shooting Zhivago in the mid 60s in the province of Castile, we realize how the cinema has changed. "We shot for 14 months in 45 degree weather, whereas the action was sometimes supposed to take place in winter. The snow? Tons of marble dust that reflected the sunlight, contributing to the surrounding heat.
In discussing Omar Sharif, she clasps her hands together to give us the idea he was a wonderful partner. "So warm. And he loved women..." He was like an angel walking around, brown-haired with light eyes and a spectacular mustache.
On Spain, where she has lived: "I had a Spanish boyfriend then. We were under Franco, yes. But my father's regime was even more restrictive," she jokes. "He believed in a traditional English upbringing."
A day came when the Zhivago press officer introduced her to a young unknown director with lots of ideas: Carlos Saura. Their first film? Peppermint frappé, which she also came to introduce in Lyon. "I'll have to jog my memory to recall the story: I was playing two women and I remember that the subtext was very erotic. The Spanish censorship saw nothing. I'm sure we would have won the Palme d'or at Cannes if the festival hadn't been canceled by the May protests! "
Amusing, her memory of that time: In May 1968, other filmmakers including Polanski and Godard had rushed the curtain, interrupting the Cannes screening of the film. Carlos and I pulled in the other direction. I even lost a tooth in the scuffle. And I believe it was Godard who hit me. Anyway, I like to believe it was him." All of this is told with a smile that leaves little room for hard feelings.
When she begins listing the eight films she shot with Carlos Saura, arriving at seven, she stops. The audience helps her as a voice cries out, "Cria cuervos !" The trailer is shown impromptu (including the theme song, "Porque te vas !"), putting everyone in such a melancholy mood that the film still generates. "I remember that Ana (Torrent), the little girl in the film, hated me," reveals Geraldine, laughing. "As adults, we worked together again. And every time we see each other, she asks me, 'What was I like when we were making the film?' But I've never told her how she had made my life hell!" The audience bursts with laughter.
Yesterday morning, mentioning all the great filmmakers with whom she has worked, she gave them all consistently honest homages, far from mere polite praise. Robert Altman, Pedro Almodóvar, Richard Lester... The same goes for her costars, like Rock Hudson, who between takes, turned out to be a wonderful designer. Was was "hiding?" No, not at all." Only Charlton Heston is excluded from her fond memories. "I remember at the cafeteria, nobody wanted to sit next to him because once he started telling his stories about Ben-Hur, you never knew when it would end."
When asked about her first memory of seeing a movie, it's still about her father. "For my brother and me, it was his films, screened at home. And one day we went to a movie theater to see Quo Vadis. On the way home, my brother and I were all excited. We said, "Papa, you should go to the movies because there were lions and Christians and color! You, you kind of make films that are s..." Again, this is said without malice. It's the little girl she used to be who is speaking, a little girl of 71 years old, whose mischievous look continues to express a mad desire to live life, one hundred percent.
Carlos Gomez