---
PostED ON 18.10.2015

---
CLÔTURE - This evening, on the stage of the Halle Tony Garnier, Martin Scorsese bid his goodbyes to the city of Lyon, after an intense three-day show, filled with moments of emotion and cinephilia. Highlights: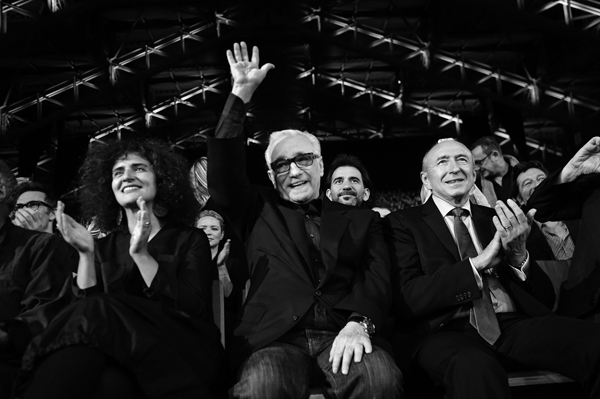 © Institut Lumière / Photo Olivier Chassignole
Max von Sydow, Emma de Caunes, Pierre Lescure, Bérénice Bejo and Michel Hazanavicius, Jean Jacques Queyranne (President of the Rhône-Alpes Region), Gérard Colomb (Mayor of Lyon), Raphaël Personnaz, Pierre Richard, Guillaume Gouix, Virginie Efira, Pablo Trapero, Abbas Kiarostami, Régis Wargnier, Claire Burger… lined up on the red carpet before giving a rousing welcome to Martin Scorsese on stage.

High School Prize: The audience discovered the second annual high school prize, voted for by the students. This year's Prize went to They Were Five by Julien Duvivier, a film from the 2015 festival program.

A twelve-minute video tribute celebrating the extraordinary career of Martin Scorsese was shown before welcoming Marty on stage for a final ovation. The volunteers and the staff of the Lumière festival were thanked onstage as well.

"Thank you, I don't want to talk in platitudes, but I'm absolutely overwhelmed by what I have experienced these last few days. I already said last night that I've never been so happy in my life, and it's wonderful that my wife Helen and daughter Francesca are here with me to share these unforgettable moments. It also provided me the chance to see a lot of friends who have come a long way to be here as well. This festival is an opportunity to remind ourselves of the importance of the cinema, against the "madness" of images today." Martin Scorsese then happily accepted a Jeroboam of Côte-Rôtie wine from the Mayor of Lyon.


On Goodfellas:

"After writing The Last Temptation of Christ, I was somehow excluded from a certain Hollywood. And following After Hours and The Color of Money, I wrote the adaptation of the book "Wiseguy," which became Goodfellas. At this stage of my life, I never wanted to make gangster movies. So, for a year, I took the time to get down a specific script on paper, which made it an extremely well constructed film.

And once the script was ready, I asked Warner to wait because we had finally found the funding to shoot The Last Temptation of Christ. It was a period that was so intense, that I still chose to distance myself from the idea of making another gangster movie. I wanted another perspective, yet in the end, key people in my circle were able to convince me.

The script was very tight, but there is a lot of improvisation in the film. My mother, for example, improvised; so it was her and Joe Pesci and we just filmed them. It turns out that Joe (Joe Pesci won the Best Supporting Actor Oscar for the film) did not want to participate in the film at all, but he agreed to do it on the condition that we shoot a scene he had actually lived. I managed to include it in the script."

For one week, Scorsese's cinema was at the heart of the program of this 7th edition - films he has directed as well as heritage treasures restored by his foundation. After the ceremony, the audience attended the screening of Goodfellas, his 1990 masterpiece, a world premiere of its restored print.


Thank you Marty !
Cérémonie de clôture à la Halle Tony Garnier

Copyright Institut Lumière / Photo Bastien Sungauer

Michel Hazanavicius et Bérénice Bejo

Copyright Institut Lumière / Photo Sabine Perrin - Jean-Luc Mège Photographies

Raphaël Personnaz

Copyright Institut Lumière / Photo Sabine Perrin - Jean-Luc Mège Photographies

Max von Sydow et Thelma Schoonmaker

Copyright Institut Lumière / Photo Sandrine Thesillat - Jean-Luc Mège Photographies

Michel Hazanavicius et Bérénice Bejo

Copyright Institut Lumière / Photo Sandrine Thesillat - Jean-Luc Mège Photographies

Pierre Lescure et Pierre Richard

Copyright Institut Lumière / Photo Bastien Sungauer

Michèle Laroque et Laurent Gerra

Copyright Institut Lumière / Photo Sandrine Thesillat - Jean-Luc Mège Photographies

Pierre Lescure

Copyright Institut Lumière / Photo Bastien Sungauer

Martin Scorsese

Copyright Institut Lumière / Photo Sabine Perrin - Jean-Luc Mège Photographies

Martin Scorsese

Copyright Institut Lumière / Photo Léa Rener

Martin Scorsese et les invités

Copyright Institut Lumière / Photo Bastien Sungauer

Martin Scorsese et Gérard Collomb

Copyright Institut Lumière / Photo Olivier Chassignole

Martin Scorsese et Gérard Collomb

Copyright Institut Lumière / Photo Olivier Chassignole

Les bénévoles du festival

Copyright Institut Lumière / Photo Sandrine Thesillat - Jean-Luc Mège Photographies

Les bénévoles du festival et Gérard Collomb

Copyright Institut Lumière / Photo Sandrine Thesillat - Jean-Luc Mège Photographies

Thierry Frémaux et Gérard Collomb

Copyright Institut Lumière / Photo Sandrine Thesillat - Jean-Luc Mège Photographies

Copyright Institut Lumière / Photo Sandrine Thesillat - Jean-Luc Mège Photographies

Martin Scorsese

Copyright Institut Lumière / Photo Sandrine Thesillat - Jean-Luc Mège Photographies

Martin Scorsese

Copyright Institut Lumière / Photo Anouck Oliviero - Jean-Luc Mège Photographies

Martin Scorsese et Gérard Collomb

Copyright Institut Lumière / Photo Léa Rener

Martin Scorsese

Copyright Institut Lumière / Photo Léa Rener

Jean-Jack Queyranne, Martin Scorsese et Gérard Collomb

Copyright Institut Lumière / Photo Léa Rener

Martin Scorsese

Copyright Institut Lumière / Photo Sabine Perrin - Jean-Luc Mège Photographies

Martin Scorsese

Copyright Institut Lumière / Photo Sabine Perrin - Jean-Luc Mège Photographies

Copyright Institut Lumière / Photo Anouck Oliviero - Jean-Luc Mège Photographies

Martin Scorsese

Copyright Institut Lumière / Photo Olivier Chassignole