---
PostED ON 12.10.2015 AT 12:10PM

---

For the very first screening of Lumière 2015 at the Institut Lumière, the festival received John Lasseter, the Pixar-Disney man, creator of Toy Story, released twenty years ago.

Warmly applauded, the genius of animation film did not hide his enthusiasm by introducing the 11:15am session of Toy Story at the Hangar du Premier-Film, "where the cinema was born," in the company of Thierry Frémaux. His enthusiasm was further increased when he discovered the plaque in his honor on the Wall of Filmmakers, unveiled before the screening. Highlights.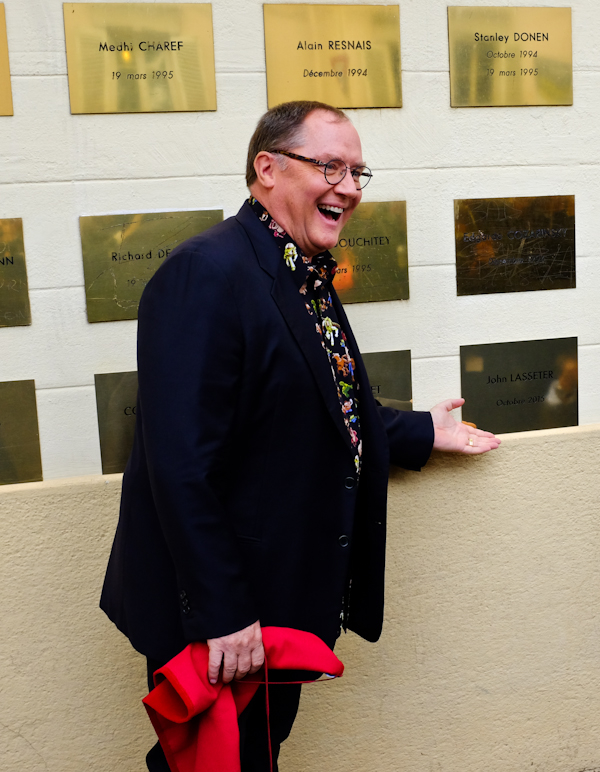 Introduction

"When we made Toy Story, no one knew exactly what it was going to be, and four days after its release, at an airport, I saw a little boy holding a Woody figurine in his arms. This little boy was determined to show his Woody to his father. I told myself at that time, and for the all the subsequent films, these films don't belong to me, but to this little boy, and all the others."
Modestly speaking
"I'm in Hollywood, and my only ambition is to entertain people, the audiences."
Responding to the question: "Do you think you are, as you've been nicknamed, 'the Walt Disney of the 21st Century'?"
"Walt Disney, is my job, it's not me! Walt Disney entertained me. I grew up near Disneyland in Los Angeles, and I think nobody knew how to entertain people like he did. This is really the kind of entertainment that I like."

Before wrapping up, in response to the question, "Will you make an action movie?"

"No! I love animation too much!"