---
PostED ON 29.09.2015 AT 4:20PM

---

FROM INTERNATIONAL TO NATIONAL CLASS - The first Cannes Film Festival in 1946 celebrated the schools of Italy, Sweden, and Denmark, but especially Mexico, who presented the beautiful Maria Candelaria and picked up the Cannes Palme d'or. At the time, Mexico had 1100 theaters for a population of 16 million and the national film industry had only existed since 1934.

1946. Same year, same team, same talent. Emilio "El Indio" Fernandez, director of Maria Candelaria, comes back with another flagship work, Enamorada. This production and four other Mexican gems, part of the "Viva Mexico!" tribute at this year's Lumière festival, showcase all the exciting features of Mexican cinema.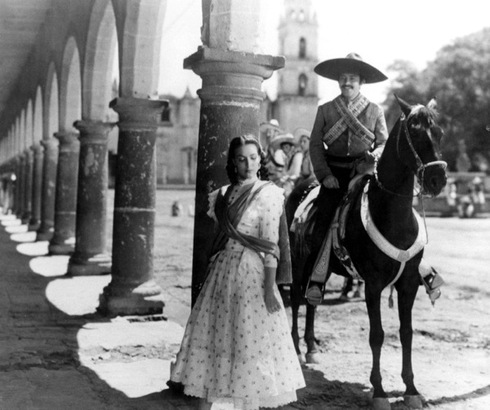 Enamorada
A spellbinding and revelatory film on the unique beauty of sublime Mexico, magnified by the real images of Gabriel Figueroa, known in his time as "the man with 13 international photography awards." Not to mention the almost animal passion of Maria Félix and the music's mesmerizing slow pace. It was said at the time: "Because it is authentic and it is human, the film seems like a documentary. This is the case for any film of value. It therefore promotes knowledge and understanding of the world of mankind, which is ultimately one of the noblest tasks of cinematic expression. "
The Other One (La otra) / Macario

Also released in 1946, this beautiful example of film noir by Roberto Gavaldón, shot against a backdrop of a night cityscape in Mexico, is visually distinct from Enamorada. Macario, shot by the same filmmaker in 1960, reveals a certain magical realism.


Another Dawn (Distinto Amanecer)
This 1943 film, meanwhile, considered by Mexican critics as one of the best films of all time, gets away from stereotypes of Mexican rural cinema, using the city as a leading protagonist.
Aventurera

With this picture from 1950, Alberto Gout succeeds in becoming the second Mexican director, after "El Indio" Fernandez, to have caught the attention of French criticism in the illustrious Cahiers du Cinema. In none of his other films do the trio Gout (director) -Custodio (screenwriter) -Sevilla (actor) reach the same level of surprising power.
Lumière thanks
the Morelia festival, the UNAM and the Cineteca Nacional Mexico