---
PostED ON 14.10.2015 AT 10:10AM

---
SELECTED EXCERPTS- The actress, gorgeous in a bright red ensemble, charmed the audience at the Auditorium Tuesday night with her anecdotes and candor. A look back at the evening and some of its most interesting revelations.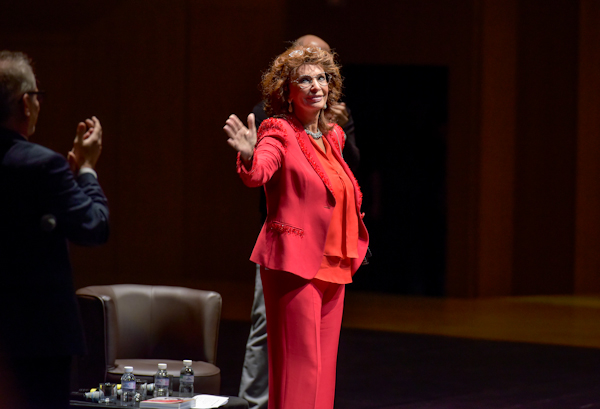 © Institut Lumière / Photo Jean-Luc Mège
When she arrived in the hall, after several minutes of applause, she said, wielding perfect irony, "When you do something in life that is very successful, this kind of ovation is expected."

Interviewed by Thierry Frémaux and filmmaker Régis Wargnier, a great admirer of the actress, Sophia Loren spoke about her career and paid tribute to Vittorio De Sica, who offered her the lead role in Two Women, the feature film screened later that evening. "I was very lucky. Vittorio taught me many things. Everything we did together was a pleasure. He taught me that the cinema doesn't mean having your picture in the newspapers. When don't do well in a scene, I'm unhappy. I love to act. "
"Carlo Ponti was the man of my life. He understood me and was always beside me. I could never have become what I am today without him. That was love," she confessed, under the eye of her son Carlo (Jr., Ed.), referring to the producer, who was her husband and the love of her life.
Evoking the great Federico Fellini, she regretted never having worked with him. "Fellini never thought of me as an actress who corresponded to his cinema. I would have liked to have worked with him," she said, specifying that he would have "loved" to direct four films of her filmography, including Two Women. "It was a very important moment of my career."
Asked about her relationship with Marcello Mastroianni, with whom she shot many films, the actress commented, "Marcello- he was like family to me. But we did not see each other. When he died, I lost a part of myself."
Régis Wargnier said, "I am a great admirer of Sophia. She had a magnificent American career, yet she came back to play Two Women. She embodies the best of Italy. Of Southern Italy. The beauty of the earth, of light. She is spectacular."
Propos recueillis par B.P.