---
PostED ON 15.10.2015

---
Thank you for loving the cinema!

This phrase pronounced by Thierry Frémaux perfectly sums up the evening devoted to the 120th anniversary of Gaumont, which took place last night at the Auditorium of Lyon. The biggest names in silent film: Alice Guy, Léonce Perret or Louis Feuillade composed the lineup of a series of imaginative, quirky, funny, timeless films, also commented by Laurent Gerra and accompanied by his imitations. The cinema that was just born expressed all the joy and freedom of childhood!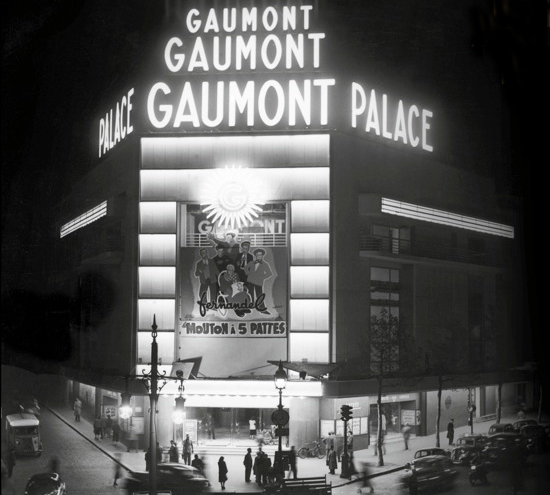 We discover that these filmmakers used the cinema to attempt all kinds of little experiments, each one crazier than the next. Alice Guy joyfully puts small dogs into a grinding machine to manufacture… hats!! This absurd magic is called, correctly and with dignity, "primitive cinema" by Thierry Frémaux, who chats with Laurent Gerra on stage, breaking down the importance of all these "primitive" ideas that unfold gradually before our eyes.

What is so fascinating is that everything is a discovery, beginning with the duration of the films. Very short films must act quickly and require further inventions. And suddenly, technical evolution allows for a longer duration. Louis Feuillade, the future director of the dark and fabulous Fantomas, imagines a ten-minute film: Tiny Tim and the Adventures of His Elephant (1913), where we see a child kidnap a baby elephant to play with. When the lights come back up and Thierry Frémaux is back on stage, the entire auditorium is filled with wonder by this playful and ingenious miracle of poetry, worthy of the best Chaplin films of the era. Frémaux explains that, with this type of film, we leave behind primitive films for a more sophisticated narrative construction, one that is "especially very inventive," adds Gerra, who is equally impressed by the comedic beauty of what he has just seen.

Afterwards follows a sentimental and spiritual story by Léonce Perret, "a rather daring film that prefigures Sacha Guitry," Frémaux explains. Then a curiosity called The Neo-Impressionist Painter (1910) is screened, a comedy that mixes real images and animation by a director named Emile Cohl who "worked so slowly and precisely" that "Léon Gaumont called him his Benedictine," says Frémaux before Laurent Gerra relates the story… in the voice of Jean-Paul Belmondo.

What is striking, then, is how these films contain a narrative quality so authentic that today's audiences always react with laughter, astonishment and of course, applause. Thierry Frémaux, the "decoder" provides brief and enlightening details, while Laurent Gerra mimics the audience's reactions in the role of Candide. Also, when the film Onézime débute au théâtre (1913) by Jean Durand is shown, where the hero performs multiple stunts in Paris, everyone is silently thinking of Jean-Paul Belmondo. And a few minutes later, we hear Gerra say... "It's the ancestor of Belmondo." "Yes, it's The Night Caller," replies Frémaux. The audience is really paying close attention!

The films succeed one after the other.

Before leaving, Thierry Frémaux thanks Nicolas Seydoux, President of Gaumont, as well as Roman, the 24 year-old pianist who accompanied the entire evening with his precise, intelligent and entertaining music.

"These films are treasures!" exclaims Thierry Frémaux in wrapping up the evening. He can also conclude that one of the biggest bets placed on this Lyon festival - the ability to transmit the value of cultural film heritage - was won last night.


Virginie Apiou